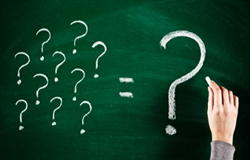 Guest Writer: Wemi Opakunle
Have you ever found yourself analyzing all the different moments that life throws at you, (both good and bad) and thinking –"what does it all mean?" If there's one thing thing that I've learned, it's not to curse your problems or grumble about your path. Your path is perfectly designed to lead you to your destiny.
The bible story of Joseph never gets old for me. If you're not familiar with this story, Joseph was a boy who had a dream of greatness (Read the full story here). The path to that greatness however, was nothing short of miraculous. From the betrayal of his brothers to the moment he became the right hand of Pharaoh, it was not an easy journey and I'm sure the winding road was one he never saw coming.
The fact of the matter is that Joseph wasn't sold into slavery, he was sold into his destiny. I'm sure there were moments between being thrown into a pit by his brothers; being sold five times; working as a servant in Potiphar's house; being falsely accused of rape; and then getting thrown in prison for a crime he didn't commit, that he couldn't see past his pain and wanted to give up. I'm sure it was difficult for him to reconcile why all of this was happening or if it was truly for a greater good.
I can imagine the frustration of feeling like his life was a waste, and the thoughts and doubts that he must have had to endure  about his dreams and instincts. What's interesting is that being transported unwillingly from the familiar (his father's land) into uncertainty (Egypt), and everything, both good and bad, that he subsequently went through, led him to being thrown in jail and to the one person who would change his life forever and put him on a collision course with his destiny. What are the odds that Pharaoh's chief cup-bearer happened to be serving a sentence at the exact same time as Joseph?
There was no way that connection could have happened anywhere else and there was no way that Joseph could become Pharaoh's dream interpreter and eventual confidant from his father's backyard. His life had to be turned completely upside down and he had to be taken out of his comfort zone to fulfill the destiny that only he was capable of fulfilling. Another thing to note is that Joseph's talent for interpreting dreams was given to him for a reason. It would be the currency that led him from the darkness into the light; from the cell to the palace.
The point of all this, is to say that nothing in your life happens by accident. Every gift you have been given has been pre-ordained for you and your journey. It is important for you to know that there's a plan and every piece of the puzzle puts you closer to completing the picture on the box. There is a place for every trial and tribulation and one day, when it all comes together, you'll see that it all meant something.